Pukul 8 malam tadi selamat sampai rumah. Ini semata2 melawat
Festival Pengantin di PKNS Bangi
,
Selangor. Sebetulnya nak beli hadiah kahwin untuk seorang rakan seperjuangan satu Matrik dulu, si Nana yang majlisnya Ahad ni. Jadi, sambil menyelam minum air. Ngihihi.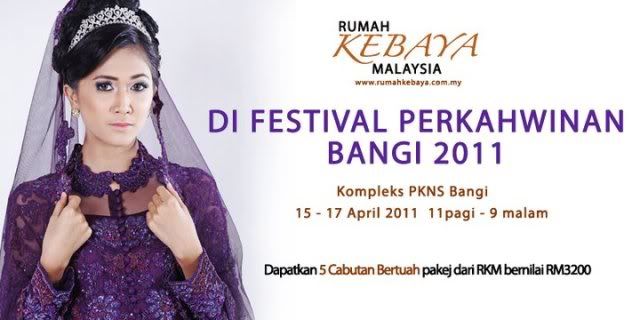 Best juga jalan2 cuci mata melihat suasana di dalam PKNS. Cuma dengan hujan lebatnya membataskan perjalanan ke sana yang sepatutnya pukul 5.30ptg dah tercatuk kat sana. Pukul 6.30ptg barulah sampai ke sana. (Padahal naik kereta bukan jalan kaki pun)
Penerokaan diteruskan dengan membeli belah
Bed Sheet
untuk rakanku itu. Senang sungguh membeli bed sheet ini. Sudah dua kali daku membeli bed sheet ini untuk bakal2 perantin. Gila takde idea. Ngakah3. Cumanya daku menukar2 corak bed sheet tersebut. Kali ni beli warna Turquoise Pink. Yang best sebab 80% diskaun. I like murah2 ni.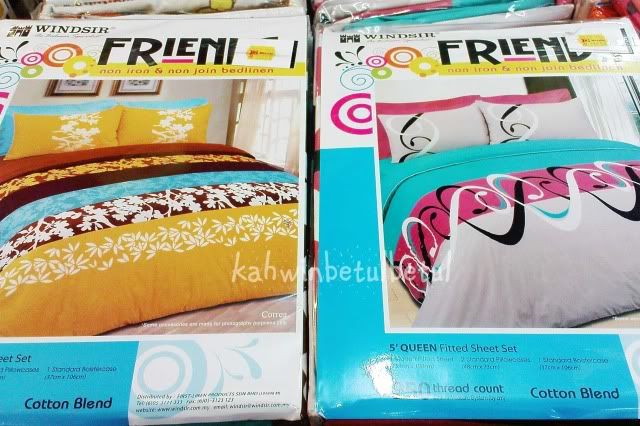 Yang belah kiri tu dah pernah hadiahkan pada G2B. Selamat sudah makhluk tersebut.
Ok itu bukan ceritanya. Ceritanya selepas tu jalan2 meneroka Festival Pengantin tersebut! Part ni saya suka sebab dapat cuci2 mata. Yang tak bestnya sebab wedding daku lambat lagi. Terasa macam
'
cepatnya preparation aku nak buat'
=.=" Ok takpe. Kata beli tingkap kan. (Baca:
Window Shoppin
g)
Pictures speak louder than words
. Ewah!
Rumah Kebaya. Dengar cerita B2B
Kina
ada 5 cabutan bertuah. Wow. Yang ni tak sempat nak terjah sebab rushing balik rumah. Takpe2 Ahad ni insyaAllah terjah lagi. (Kalau rajin)
Sukanya nak bagi 99Nama Allah ni untuk Majlis Pertunangan. Tapi mahal gak harga kan kan?
RM5 seketul. Tapi macam daku nak 50pcs. Katanya dapat la RM4 seketul. Mahal juga. T_T
Kad kahwin jatuh pada harga yang AMAT2 MURAH. Ada tu RM0.65 untuk 1000pcs.
Yang ni bag untuk door gift. Saiz besar. Harga RM0.90/pc. Takmau!
Yang ni bag untuk door gift. Saiz kecil. Harga RM0.90/pc. Best sebab ada tali. Boleh diusulkan untuk Majlis Perkahwinan nanti. Ngehehe. Padahal nak letak telur pindang je pun!
Hasil tangkapan di Sungai PKNS Bangi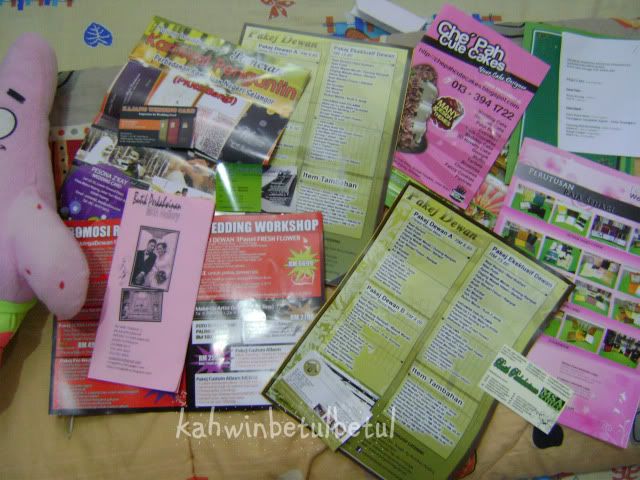 [Sila klik untuk tumbesaran yang jelas]
Yang best kat sini ada satu
Catering
ni. Namanya
Anjung Eksklusif Catering
. Macam tadi ada tasting Nasi Briani, Daging Masak Hitam, Ayam Masak Merah. Slurrrppp. Dah torai. Sedap gak! Yang best sebab pakej dia bagi daku SANGAT REASONABLE. Semua lengkap la pakej berliau. Cuma takde review pasal Catering ni.
Have to do more homework!
Website nya
sini
.
Korang2 yang nak dekat2 Wedding tu boleh la pergi sinin ye. Macam2 ada cuma Booth dia tak sebanyak kat tempat lain kot.
What do you expect?
PKNS je kut. Kecil je. Pernah gak pergi Festival Pengantin kat (tak ingat nama.yang ada The Store tu) Shah Alam. Yang tu meriah gila. Ataupun sebab pergi hari Jumaat kot. Pasal tu tak ramai orang. Apa lagi yang duduk dekat2 Bangi tu cepat2 terjah. Jangan jadi macam Nas Terjah Melodi sudah!
p/s: Boleh consider yang catering tu. Tapi sebelum tu kena dapat approval daripada abang kandung kesayangan. Gila besar kuasa veto beliau! -_-"